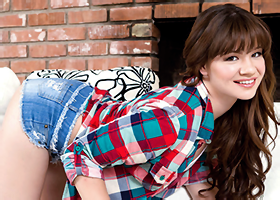 Country:

United States

City:

Sacramento

Age:

27

Height:

5 ft 2 In (157 cm)

Weight:

110 lbs (52 Kg)
Early life
Alison had a normal American childhood. She grew up in a happy family with her parents (who are still together) and two sisters. Alison was a good student and tried a lot of sports like soccer and gymnastics. She says that she was a typical All-American kid. She lost her virginity when she was fifteen years old, but as she says it wasn't a turn off point in her life that turned her into a promiscuous girl. She has always been very sexual and started watching porn when she was only eight years old. Her childhood curiosity was leading to open porn sites and check them out every time she could. Her parents were constantly catching her humping things. When asked if she was dating girls, she said that she engaged in a threesome but it was never about the other girl who participated in that, but the guy (who was Alison's friend with benefits). Before she entered the industry she had already slept with 10-15 guys.

Porn career
Rey entered the porn industry when she was eighteen years old and she says that she was always hyper-sexual and that this way she does the work she really loves. As a feminist, she says that woman's sexuality should not be something to be ashamed of or something to be hidden. She was extremely nervous when she first filmed the first scene. 'I barely slept two hours and had cold feet the entire time' she says. But it all went all right after the shooting. The only thing that made her nervous was the photo shoot because she didn't know how to pose. At the beginning of her career (she's in porn for two years now) she was too nervous to cum and she actually never did, being too focused on doing her performance right, instead to focus on her pleasure. Her then boyfriend was very supportive of her work and didn't mind watching her scenes with her.Alison ReyAlison says that she watches her scenes for critical purposes and to laugh at herself. Her favorite position is lazy doggie and dominant and aggressive guys turn her on. She masturbates three to four times a week and she is slowly getting addicted to her Hitachi. She says that her favorite place for a guy to ejaculate is her boobs. Her fantasies include a babysitter who sleeps with the parents and gang bang abduction, for which she says she doesn't think she'd be able to handle in real life because she doesn't prefer more than two men at the same time.

Personal life
Alison is a student who works in the porn industry in meanwhile. She loves dancing and considers that as her hobby. She loves R&B and hip hop music as well as country music. She's a typical post adolescent girl who loves watching shows like Pretty Little Liars, The Fosters, Switched At Birth, America's Next Top Model and Project Runway. In five years she sees herself married and with a child. She only sees herself doing porn while she is in college.
Alison Rey's New Videos
Videos (4)
Watch Alison Rey's HD videos for free, view albums, photos, discover playlists. Subscribe, comment and have fun on HaveFunPorn.com - HD Porn Videos Online with sexy community.